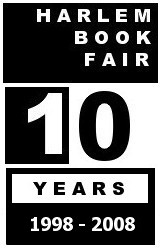 Although, I was unable to attend the Harlem Book Fair this year, I did what the panel discussions aired on Book TV C-Span. Unfortunately, I can not tell you they will be televised again, but I believe you can view them via the Harlem Book Fair
homesite
.
Watching these panels have inspired the subjects for the weeks show in
Chatting with Shanise B.'s 'The State of Me In The World'
. Some of the issues I will touch on will be:
*
Symbolism;
*
Civil Rights;
*
The Hip Hop Generation;
*
The 'New' Way of Oppression;
*
Education;
*
Our 40 Acres and a Mule;
*
Bicentennial of the Abolition of the Slave Trade;
*
and a few other issue, had I been there I would have raised;
There were a number a books that I have added to my wishlist and to
The Book Nook
.